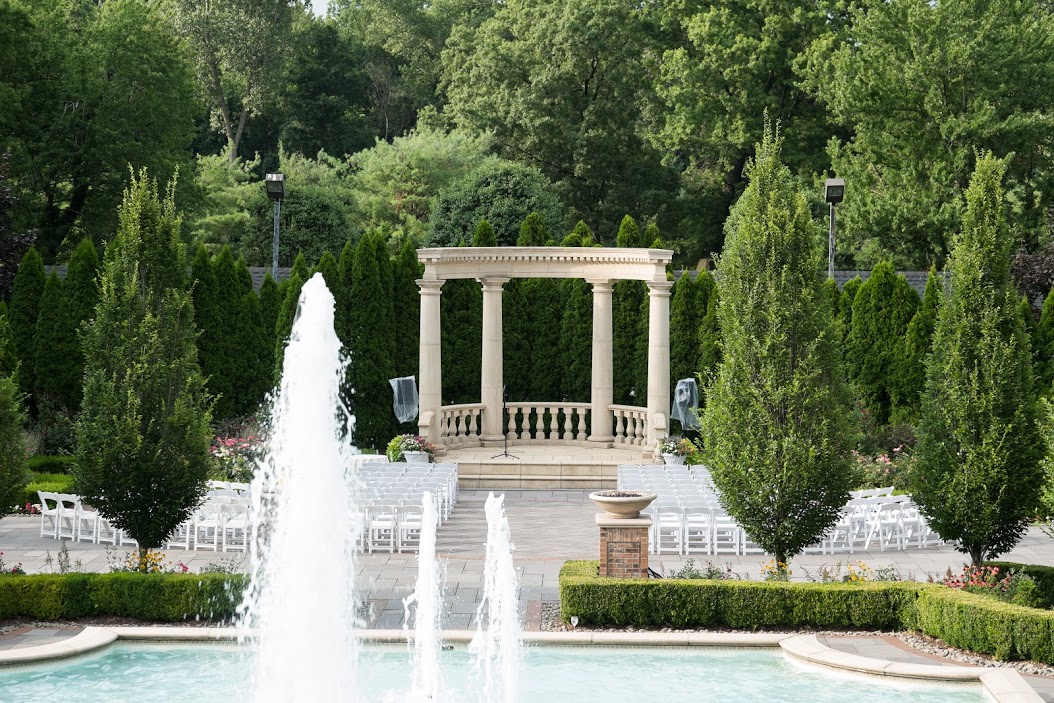 The Best Wedding Venues In Bergen County NJ
Only the best wedding venues in Bergen County NJ bring couples' fairytale weddings to life. If you are reading this post, you recently got engaged and are searching for the perfect wedding location. The process can be overwhelming for many couples in the area. However, it does not have to be complicated when you partner with the right team. Read this post for the top secrets to finding the best wedding venues Bergen NJ offers.
Define Your Wedding Theme & Style
Get a feel for your wedding feel, theme, and style before touring extravagant party venues Bergen County NJ. With all this in-mind, you can select a beautiful location that matches your desired vibe. Say you're searching for an ultra-luxurious, private outdoor wedding event. Then, our impeccably-manicured gardens at The Rockleigh are the perfect fit — complimented with time-honored architecture, blooming flowers, and flowing fountains. Or, maybe you've always dreamed of a classically elegant ballroom-style wedding. If that's the case, look no further than our opulent formal ballrooms. Elevate your reception with sparkling crystal chandeliers, dramatic high ceilings, and romantic glowing fireplaces. Certainly, define your wedding theme and style before touring unique venues Northern NJ.
Tour The Luxurious Grounds
To find the top wedding venues in Northern NJ, visit during the season you want to get married in. This secret benefits couples tremendously because they gain insight into what their big day could look like. When couples who want to elope in the fall visit venues in the spring, they see blooming flowers and blue skies. The entire atmosphere could shift by the time autumn comes. Different plants bloom for one thing. On top of that, many venues use seasonal decor. Visit your location options within the right season to experience the full effect. Keep this secret in mind as you visit wedding venues Northern New Jersey.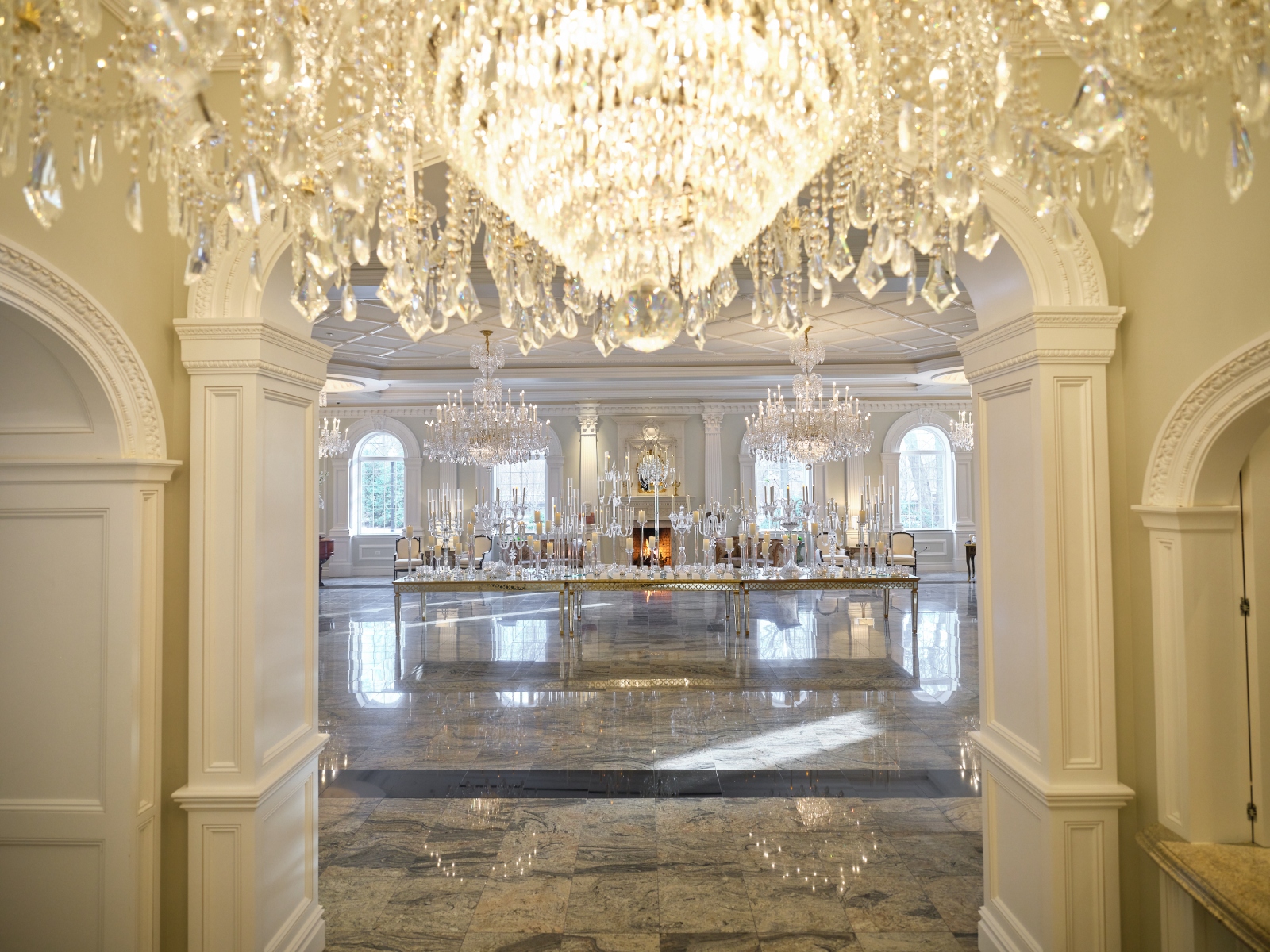 Get A Feel For The Ambiance And Environment
You should also get a feel for the ambiance, environment, and atmosphere at the most gorgeous New Jersey wedding places. Looking for an luxurious, private, and unique vibe for your special day? The Rockleigh's opulent indoor and outdoor spaces are worthy of hosting the event of your dreams. For a lush, green, and natural feel — get married outdoors. It's an unforgettable choice for couples dreaming of a bright and colorful garden wedding. Absolutely, get a feel for the ambiance, vibes, and atmosphere before choosing Bergen wedding locations.
Inquire About A Backup Plan B
In addition to visiting venues during the right season, inquire about poor weather plans. The best wedding venues always have an answer to this concern. Luxury outdoor venues provide their guests with multiple options. They offer beautiful garden wedding spaces with well-kept plants and flowers. However, they also guarantee their guests options for when bad weather strikes. They bring tents outside to give their guests the outdoor setting they dreamed of even during rain storms. You can even choose to get married inside an extravagantly decorated stone gazebo. Search for wedding venues in North Jersey with several poor weather plans.

Write A Detailed Guest List
Furthermore, write a guest list before you start searching. This secret prevents couples from booking unsuitable venues. The number of guests at a wedding plays a major role in determining the perfect location. Create a list of your guests first. Calculate the total and search for a venue that can accommodate that many people. Most couples opt for spacious wedding ballrooms NJ that can actually fit more guests than they plan to invite. That way, they can add more people to their list without worrying. Before you start your search for the best wedding venues NJ, write a guest list.
Ask About The Amenities And Services
Prepare further by verifying resources during your first visit to each venue. Ask each wedding venue about their food services. The ideal venue offers an array of meal options. From pasta dishes to seafood platters, you can find ideal meals easily. Moreover, they offer special plates for guests with allergies and other dietary restrictions. In addition to the cuisine, inquire about the dance floor. Assure that your guests have enough room to celebrate you and your fiance. Many venues also offer entertainment or can put you in touch with talented performers. Verify these resources the first time you visit wedding places in Bergen County.

Plan For Daytime And Nighttime Photos
Lastly, plan for daytime and nighttime photos. Several couples focus mainly on daytime backdrops when visiting extravagant wedding venues in NJ. However, most weddings continue after the sun goes down. You want to receive a large collection of photos to remember your entire day. The best banquet halls provide couples with elegant daytime settings as well as well-lit nighttime ones. They offer luxurious, colorfully lit water fountains. Their decor always includes fairytale-like lighting as well. Use this secret advice to find the perfect outdoor wedding venues Bergen offers.
Think About The Location
Think about the location of your luxurious Bergen County wedding venue too. You want to choose a venue that's located to nearby airports, hotel accommodations, and major highways. After all, you don't want travel to be too much of a hassle or concern on your special day. At The Rockleigh, we're just minutes away from New Jersey's biggest interstates, transportation hubs, and international airports. Plus, we have plenty of parking on-site for all of your guests. Certainly, choose the right location when searching for the best wedding spots New Jersey.

Peek At The Dance Floor
Now, take a peek at the dance floor at your event venue Bergen County NJ. Nothing beats dancing, singing, partying, and celebrating at a luxurious wedding reception. The Rockleigh's beautifully-designed inlaid marble floor has plenty of space for dancing the night away. Right under our sparkling crystal chandeliers, the space creates some truly amazing photo-ops too. Right next to the dance floor, make sure there's plenty of rooms for your wedding DJs, live band, or entertainers. Your performers should have enough stage space to make the event truly unforgettable. Indeed, take a peek at your Bergen County wedding venue's elegant dance floor space.
Trust Your Gut Decision
Trust your gut when selecting the best wedding reception venue Bergen County New Jersey. You should know that your venue is "the one" from the moment you arrive. Envision yourself getting married here — walking down the aisle on your big day. To help you make the right choice, take a final tour of the ballrooms, review potential menu options, and walk around the venue's gardens. After this, you'll have your dream wedding venue and event date secured. Now's the time to relax, congratulate yourself, and let the North Jersey wedding planning begin.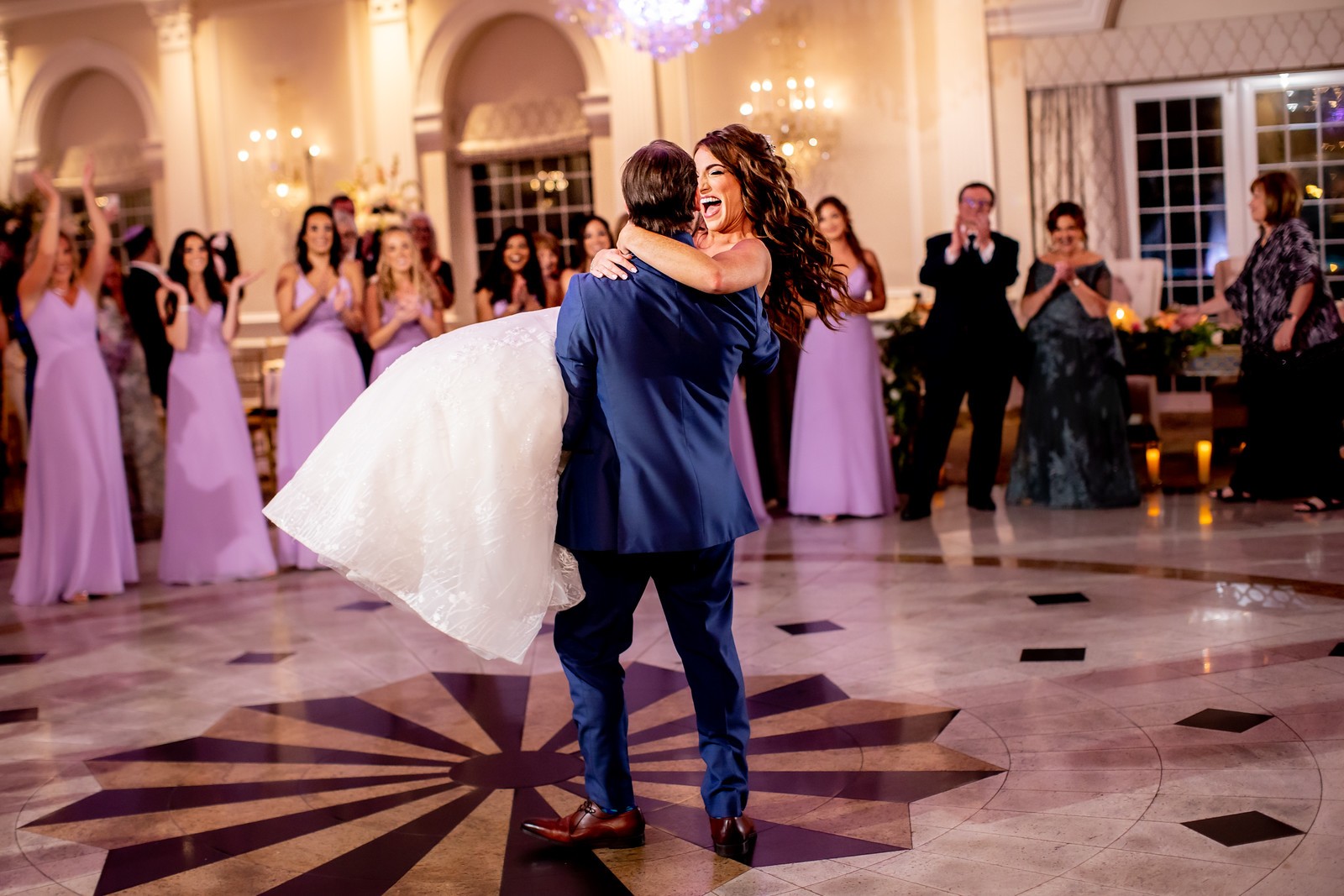 To plan the perfect wedding, you need to book a date at the most incredible venue. Find the best options in North Jersey by visiting during the season that you want to elope in. Ask each venue about their bad weather options so you can prepare for the worst. Write your guest list before you begin your search as well. Verify resources during your initial visits. Finally, plan for both daytime and nighttime photos. Take some time to define your wedding theme, color palate, and style too.
Plus, you need to consider the geographic location of the venue. After all, you want to pick somewhere that's close to major airports, highways, and transportation centers. Before you make your final choice, take good peek at the dance floor. You should also get a strong feel for the ambiance, environment, and atmosphere. And of course, trust your gut decision when choosing the most extravagant location for your special day. Plan the day of your dreams with these secrets to finding the best wedding venues in Bergen County NJ.
Amenities From Popular Wedding Halls In Bergen County
The most popular and unique wedding halls in Bergen NJ offer newlywed couples so many lavish amenities. The charming communities, neighborhoods, and suburbs of Northern New Jersey have so much to offer on your wedding day. Whether you've always envisioned a romantic ballroom wedding or a vibrant outdoor celebration — you'll certainly find it at The Rockleigh. Read on to learn about the best amenities from popular wedding event venues in NJ.
Full Event Experiences
Host your full event all under one roof at the best wedding venues in Bergen County. At The Rockleigh, your special day begins in our romantic garden chapel. Exchange your vows beside lush greenery, flowing fountains, and charming gazebos. Then, the cocktail hour begins. Our in-house culinary team prepares a wide assortment of flavorful hors d'oeuvres and specialties to satisfy every palate. After the cocktail, your reception begins in the Grand Pavilion or Bristol Ballroom. Here, the perfect opportunity to make your first appearance as a newlywed couples. Certainly, discover beginning-to-end event experiences at the best wedding halls in Bergen County.

Unsurpassed Culinary Excellence
The most traditional wedding venues in NJ are renowned for unsurpassed culinary excellence. At The Rockleigh, our passionate, in-house culinary team designs innovative reception menus that reflect your personal tastes, preferences, and individuality. World-class cuisine here is complimented with white glove service, genuine hospitality, and attention-to-detail. Our service team is dedicated to creating an unforgettable wedding day that exceeds your wildest expectations and dreams. Indeed, taste the unsurpassed culinary expertise at this popular wedding venue in Bergen County.
Lush Garden Spaces
Explore lush gardens and charming greenery at the best wedding venues North Jersey. There's no shortage of breathtaking and romantic photo-ops at The Rockleigh. Every inch of our outdoor space is adorned with blooming flowers, charming gazebos, and flowing fountains. Our time-honored architecture and Georgian-style mansion creates a striking backdrop for wedding ceremonies and pictures. As you head indoors, guests will be amazed by the shining chandeliers, majestic staircases, and glowing fireplaces. If you've always dreamed of a lush garden wedding, you'll fall in love with the best reception venues in New Jersey.

Gorgeous Reception Ballrooms
Elevate your reception in gorgeous ballrooms at the best Bergen County wedding venues. Soon-to-be wed couples can choose between two stunning and lavish spaces — The Grand Pavilion and Bristol Ballroom. Enhance the atmosphere with twinkling chandeliers, inlaid marble dance floor, and tall ceilings. For dinner, we can set up gourmet and dynamic food stations throughout this one-of-a-kind space. Indeed, create unforgettable memories in a gorgeous reception ballrooms at the best wedding venues near Passaic County.
Wedding Experiences Like No Other
Experience events like no other at the best wedding venues around Bergen County. Chef-inspired cuisine, stunning ballrooms, and magical moments await at The Rockleigh. Just a short trip from New York State, Manhattan, Pennsylvania, and Central Jersey — this magnificent location is overflowing with luxury. Our extravagant ballrooms and romantic ambiance is bound to wow even the most discerning guests. Before your reception, your loved ones will be delighted by a charming outdoor ceremony. Definitely, plan a wedding experience like none other at the best event venues in Bergen County.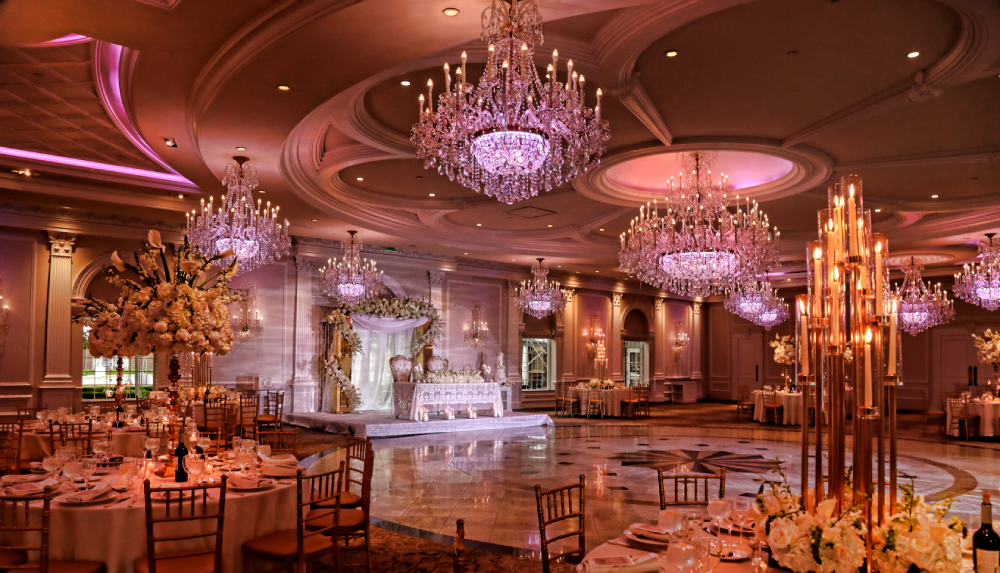 Host your special day the best wedding venues in Bergen County. This gorgeous setting provides full event experiences for your ceremony, cocktail hour, and reception. Our in-house culinary team will elevate your reception with innovative, creative, and fresh menus. For your ceremony, get married in lush gardens and charming greenery. Once you're officially wed, host your reception in our magnificent Grand Pavilion or Bristol Ballroom. Experience wedding events like no others at The Rockleigh. Follow the points above to learn more about the best wedding venues in Bergen County.