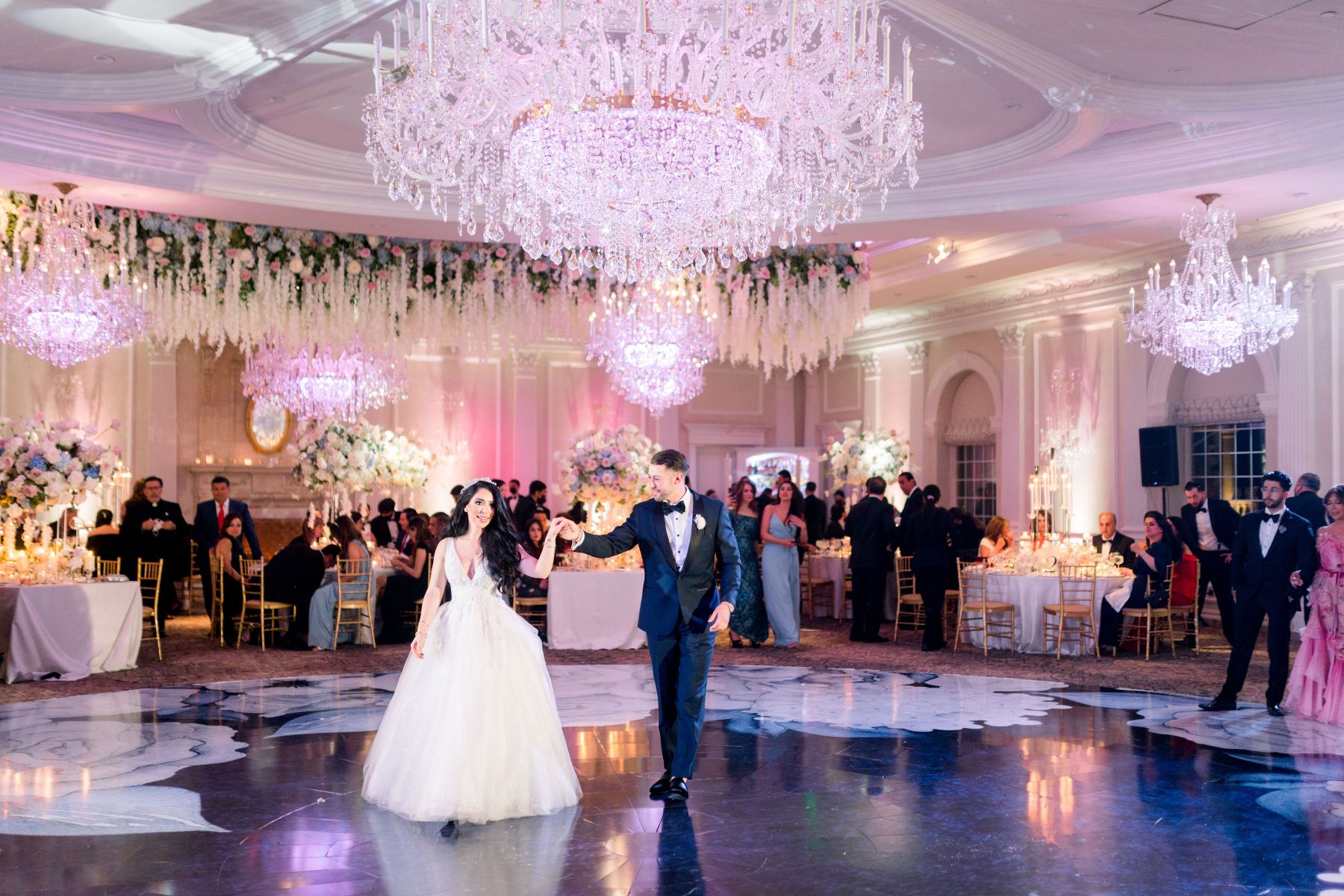 Find Unique Wedding Reception Venues In New Jersey
Still searching for a unique, romantic, and luxurious place to begin your happily ever after? You'll find some of the most gorgeous wedding ceremony and reception venues right here in New Jersey. All the magic happens at your reception – so you need a location that honors your unique love story. There's a lot to look for in the most elegant and extravagant venues. After all, your wedding is a day that comes once-in-a-lifetime. Without any further ado, here's how to find the most unique wedding reception venues in NJ.
Picture-Perfect Scenery
Shut your eyes and imagine the most beautiful wedding reception halls in NJ. If you envisioned lush gardens, extravagant ballrooms, time-honored architecture, and upscale luxury – The Rockleigh may just be a perfect fit. Our Bergen County wedding venue is renowned as a photographer's dream. Every space here calls for simply magical photo-ops, both indoors and outside. Showcase impeccably-manicured landscapes, twinkling chandeliers, majestic grand staircases, and upscale furnishings in all of your wedding day photos. Certainly, experience picture-perfect scenery at the most elegant New Jersey wedding reception locations.
The Essence Of Elegance
Feel the essence of luxury, elegance, and extravagance at the best venues for your wedding reception in North Jersey. At The Rockleigh, our magical ballrooms are designed to capture an authentic sense of grandeur and opulence. They perfectly set the tone for your dream-like, formal event. And of course, these spaces offer exclusive bridal suites – so you'll have a private getaway from all the limelight. Upscale décor, breathtaking spaces, and a commitment to excellence have made the Rockleigh one of the best places to host your reception year-after-year. Surely, experience the essence of elegance during your reception at New Jersey wedding venues.
Prime Location
Location always matters when searching for the best reception venues for your New Jersey wedding. Of course, you want to choose somewhere that is convenient and accessible for all of your guests. Otherwise, you risk not having some of your closest friends, family, and loved ones there on your big day. At The Rockleigh, we're centrally located in Northern NJ – just minutes from the New York State border. Our North Jersey location makes us an ideal spot for guests all over the Tri-State Area. We're known to be a suiting location for brides, grooms, and families alike. Indeed, host your wedding reception New Jersey at a perfectly-located luxury venue.
Impeccably Decorated Rooms
Host your reception in impeccably decorated wedding ballroom in New Jersey. From the moment you arrive, our executive entrance, luxurious lobby, and majestic grand staircase will have you at "Hello." Then, a welcoming, experienced member of our events team will show you to our grand ballrooms. Here, you'll be stunned by the high ceilings, sparkling chandeliers, glowing fireplaces, and spacious marble inlaid dance floors. Absolutely, celebrate in impeccably decorated New Jersey wedding reception ballrooms on your big day.
Breathtaking Outdoor Event Space
Always dreamed of incorporating the outdoors into your wedding reception Northern NJ? Host your ceremony, cocktail hour, or reception on our impeccably-manicured grounds. Lush greenery, blooming flowers, and flowing fountains create endless beautiful backdrop to enjoy during your big day. When the weather's uncooperative, our elegant nearby ballrooms are ready to accommodate a quick transformation. Definitely, incorporate the outdoors and get married in breathtaking outdoor event space for your reception New Jersey.
There are several qualities and amenities to look for in the best NJ wedding venue for your reception. For a start, look for somewhere filled with breathtaking, picture-perfect scenery. The reception hall should capture the essence of elegance and luxury in its purest sense. To make wedding day travel easy on your guests, pick a venue that's conveniently located too. During your tour, be sure to see the luxurious, elegant, and breathtaking wedding ballrooms. Also, check out the beautiful, lush, and romantic outdoor gardens. Follow the points above for some help finding the most magical wedding reception spots New Jersey.