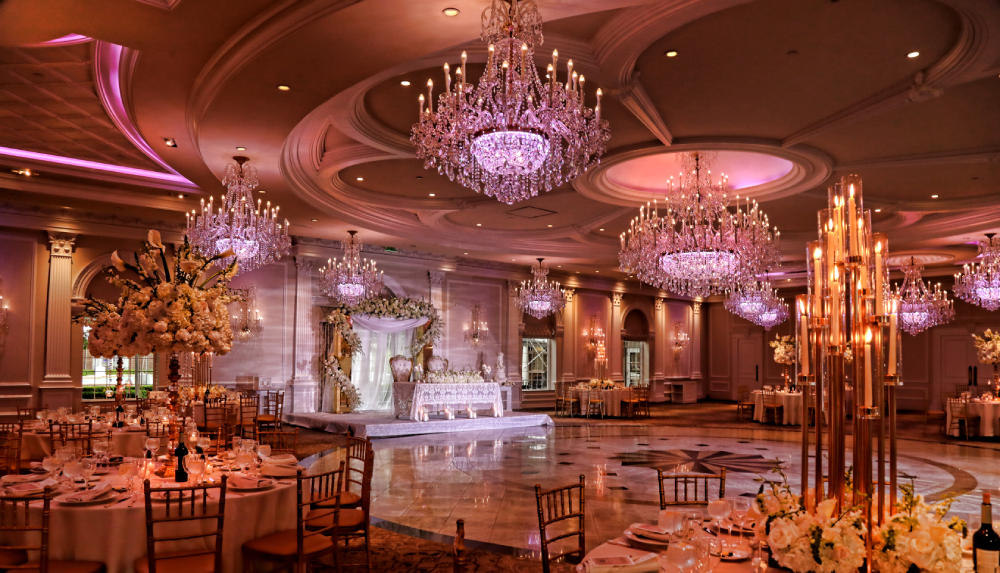 What's Possible At The Most Gorgeous Wedding Places New Jersey?
There's endless possibilities at the most gorgeous wedding places New Jersey. The sky's the limit here. Prepare for life-long memories and unforgettable magic moments NJ that you'll cherish for a lifetime. Aside from the person you're marrying, the venue is likely the most important aspects of your entire wedding event. So, couples need to choose a spectacular destination that is ready to accommodate their unique and creative vision. As a bride-to-be yourself, you should know what makes the best wedding locations in NJ so special. Read on to learn what's possible at the most gorgeous wedding places New Jersey.
Say "I Do" In Charming Outdoor Spaces
Breathtaking outdoor ceremonies, cocktail hours, and receptions are always possible at the best wedding places NJ. Say "I Do" beside blooming botanical gardens, flowing fountains, charming gazebos, and impeccable landscapes. A garden setting is a beautiful touch for any magical wedding affair – especially if you're going after a romantic floral theme. It's also a great choice for adventurous couples who love being surrounded by the great outdoors. Elevate your celebration with old-world charm, contemporary luxury, and natural elegance. Certainly, say "I Do" in beautiful outdoor spaces at the best wedding places New Jersey.
Eat Incredible Hors D'Oeuvres & Dinner
No wedding is complete without incredible hors d'oeuvres and gourmet dinner. Choose a luxurious Nyack wedding venue that can handle chef-led catering in-house. Skip the hassle of booking and coordinating a separate vendor and work with an experienced culinary team at your venue. Waitstaff butlers will pass around a luscious selection of hors d'oeuvres throughout your cocktail hour. Or, dazzle your guests with cocktail stations like a seafood bar and sushi station. For the main course, guests can select from a choice of meat, mish, or poultry – paired with fine wines and premium champagnes. Indeed, there's endless culinary possibilities at the best wedding places New Jersey.
Choose From Full-Service Event Packages
Simply event planning with full-service packages from the best wedding places New Jersey. Let the experienced, in-house venue staff help plan every aspect of your event – including your ceremony, cocktail hour, and reception. They'll handle everything from bar service, table linens, chairs, and cutlery settings. Experienced venue teams have years of experience planning, designing, and hosting unforgettable wedding events. So, they know all the tips, tricks, and secrets to bring your dream event to life. Absolutely, de-stress event planning with ready-made packages from the most luxurious wedding places NJ.
Discover Unmatched Style That Aligns With Your Vision
The most gorgeous wedding places NJ are known for luxurious, elegant style that meets your vision. Think about the wedding style, theme, and vision you've always dreamed of. Have you always envisioned an opulent formal wedding – surrounded by grand ballrooms, glowing fireplaces, marble-inlaid dance floors, and crystal chandeliers? Are you searching for somewhere that is plentiful with impressive décor and breathtaking photo-ops? If you're always imagined an outdoor wedding, you'll want to look for an Essex County wedding reception venue with time-honored architecture, blooming floral gardens, and perfectly-manicured grounds. Indeed, look for elegant wedding places North Jersey with unmatched style and luxury.
Select A Ballroom With Plenty Of Space
When you're searching for the most gorgeous wedding places New Jersey, look for spacious ballrooms with plenty of room for your friends, family, and loved ones. Go on your initial site tour with a rough estimate of your guest count. This way, you can choose a venue with enough space to comfortably host your attendees, DJ, and entertainment. You'll also want extra room for speeches, dancing, and cake cutting too. Definitely, look for stunning wedding places NJ that have plenty of room to comfortably host your guests.
The possibilities are endless and unmatched at the best wedding venue places in NJ. Hold your ceremony outdoors here and say "I Do" in a truly magical, special, and picturesque setting. During your reception, treat guests to an unforgettable meal of incredible hors d'oeuvres and chef-inspired cuisine. These beautiful locations are known for an elegant, high-end style that aligns with your vision. To simplify the event planning process, choose for full-service packages that cover every aspect of your celebration. While selecting these packages, make sure there's plenty of room for your entire guest list. Follow above to learn what's possible at the most gorgeous wedding places New Jersey.