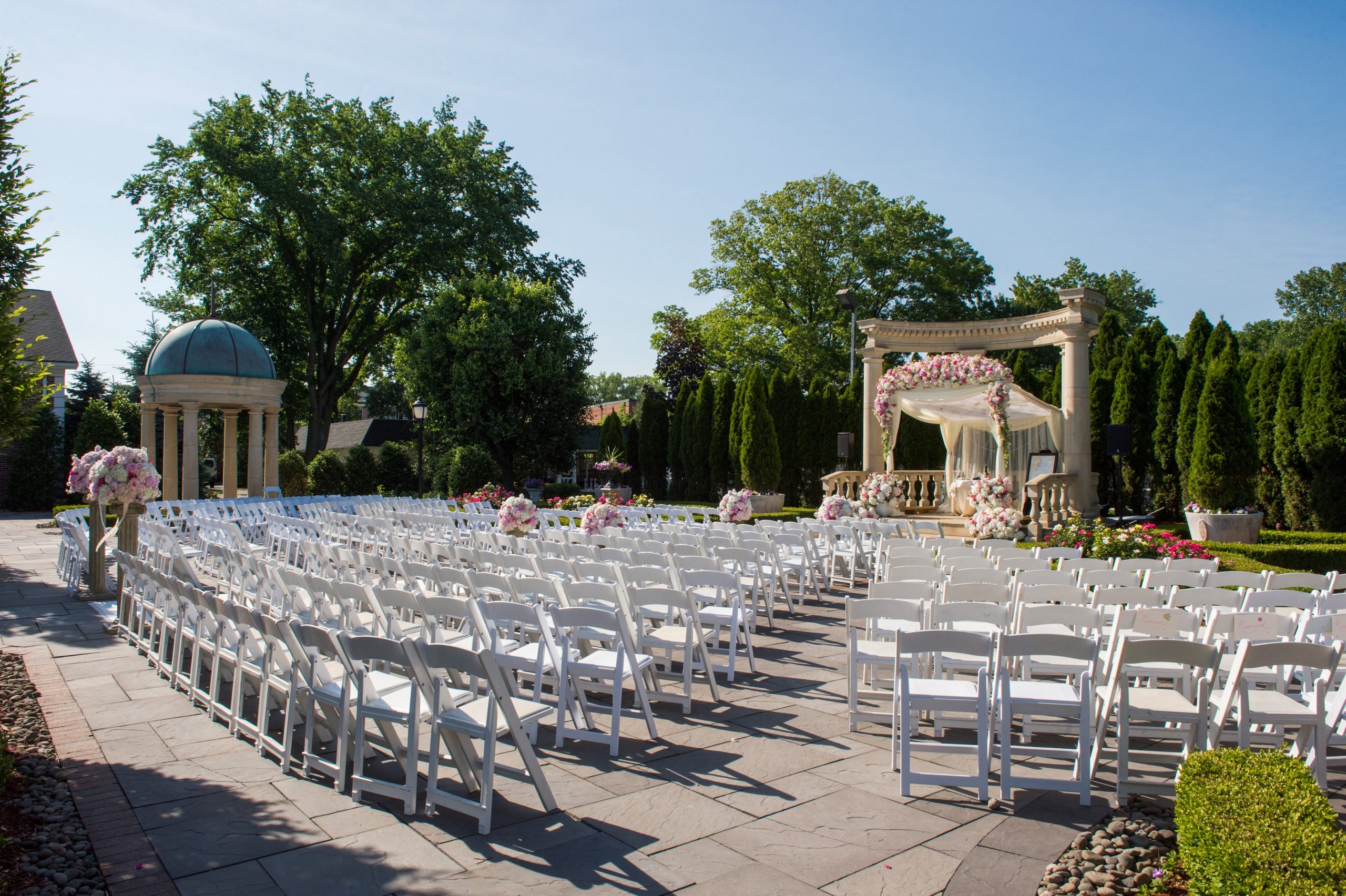 The Best Outdoor Wedding Venues NJ For Your Big Day
Intimate Outdoor Moments
Even at the largest wedding venues in NJ, you'll still have romantic options for those intimate and magical moments. Host an open, airy, and scenic wedding ceremony outdoors – that honors your beliefs and cultural traditions. Our stunning chapels, gardens, fountains, and gazebos create unmatched outdoor scenery. Then, mix and mingle outdoors during the cocktail hour. As the sun goes down, you can all share in magical moments under the moon and stars. Indeed, create intimate and special outdoor moments at the best garden wedding locations North Jersey.
Expert Event Coordinators
There's a lot of different factors that go into planning a luxurious outdoor summer wedding NJ. Expert event coordinators are ready to help you design the magical garden wedding of your dreams. Trust us to execute your wedding vision, goals, and plans in a timely manner. At The Rockleigh, we've helped hundreds of soon-to-be-wed couples plan extravagant celebrations. Leave it to us to handle the planning and coordination – so you can focus on enjoying this magical time. Certainly, partner with expert event coordinators to simplify outdoor wedding planning in NJ.

Dreams – Turned Into Reality
With blooming gardens, fresh flowers, and sunny skies – bring your dreams to life at the best wedding venue NJ. Are you still searching for a spot to host your airy, scenic, and charming space for your outdoor wedding? Then, look no further. You've finally found the right spot. Whatever your wedding dreams, The Rockleigh will do or best to make it happen. We have years of experience serving savvy brides and grooms just like yourself. We can't wait to start planning your dream event together. Definitely, transform your dreams into reality at the best outdoor wedding spots NJ.
Unique Backdrops
In need of a unique, memorable backdrop for your New Jersey wedding day? Look no further than the Rockleigh. Our impeccably manicured grounds magically frame outdoor events. The property's time-honored architecture – combined with our breathtaking scenery – creates the most beautiful wedding day photos we've ever seen. It's the best choice for couples looking to get married somewhere elegant, grand, and private. Surely, elevate your NJ outdoor wedding with unique, memorable, and distinct backdrops.

Backup Options
Since the weather is always unpredictable, the best outdoor wedding venues always offer a backup plan. Should there be too much rain, heat, or wind on your big day – simply move your wedding inside. Our luxurious, elegant, and opulent ballrooms are ready to host your extravagant affair. Even inside, your wedding day will be one to remember forever. Inside, guests will be wow'd by our sparkling crystal chandeliers, glowing fireplaces, and precise attention-to-detail. Absolutely, ask about backup options for your outdoor event at Norwood wedding venues.
Manicured Gardens
The best outdoor wedding venues maintain manicured gardens all year long. You can get married in the summer with beautiful plants surrounding you and your fiance. Couples eloping during the fall receive the same level of luxury in their atmospheres. Garden wedding venues in NJ showcase bright green trees and freshly cut grass. More so, the abundance of seasonal flowers draws couples in. Perfect your big day at the best outdoor wedding venue's luxurious gardens.

Well-Lit Fountains
Additionally, the best outdoor wedding venues in NJ maintain well-lit fountains. These, too, create unbeatable backdrops for photographs. The gorgeous fountains add a sense of elegance regardless of the weather. Moreover, they increase the luxuriousness both during the day and at night. Beautiful outdoor wedding venues turn fountain lights on once the sun sets. This allows couples to continue enjoying their outdoor receptions alongside beautiful scenery at night. Hence, this is yet another way that wedding halls in NJ perfect couples' big days.
Classical Architecture
The top outdoor wedding venues in Northern NJ also highlight their classical architecture. The mansions at these venues are not just perfect for indoor ceremonies. You can hold an outdoor wedding ceremony and still take advantage of historical architecture. Georgian style mansions make for great photo backdrops. They enhance the fairy tale look that the gardens already create. Take castle-like photos with your new husband or wife on your big day. The Garden State's top outdoor wedding venues guarantee magical experiences.

Covered Ceremony Options
The best wedding venues in the state also offer covered ceremony options. When you plan a wedding outdoors, one of your main concerns is the weather. What happens if it rains? What if the sun's location prevents the photographer from capturing quality photos? Highly rated yet affordable outdoor wedding venues provide solutions to all of your worries. Their grounds include majestic stone gazebos. Say "I do" inside of one of these masterpieces or in an outdoor chapel. The best venues offer several options so you can create the perfect outdoor wedding.
Exquisite Decor
Of course, quality outdoor wedding venues never skimp on the decor. Even when outside, staff members put together luxurious scenes for ceremonies. They decorate gazebos and chapels according to couples' wedding themes. Engulf yourself in nature's beauty by decorating with vines and more flowers. Add a touch of elegance with chandeliers and twinkling lights inside of your covering. Additionally, big outdoor wedding venues NJ set up amazing table spreads for reception dinners. Book at the best outdoor wedding venues to throw the celebration of your dreams.
Couples longing to say "I do" among nature get married at outdoor wedding venues. The Garden State's options do not disappoint. Top wedding venues in Bergen County NJ maintain manicured gardens of blooming flowers and greenery. They also include classical architecture that makes for great photo backdrops. Beautiful venues keep the party going all night long with well-lit fountains as well. Look for a venue that provides you with an array of ceremony cover options. That way, you can prepare for any type of weather. Furthermore, amazing wedding venues decorate outdoor ceremonies beautifully. The best outdoor wedding venues in NJ can perfect your big day.