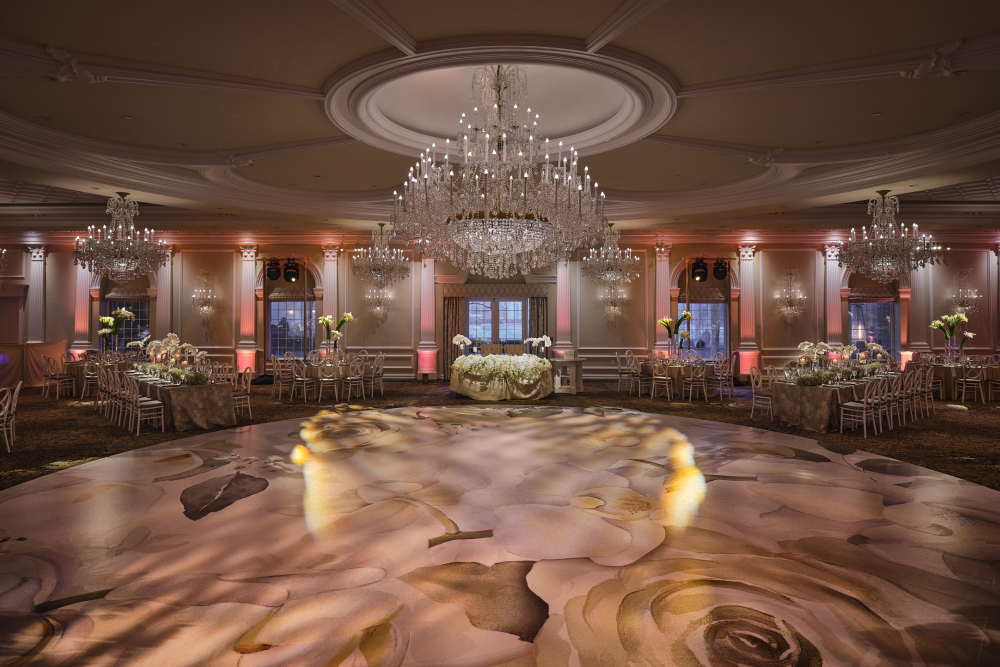 Grand Wedding Halls In North Jersey
For over 25 years, The Rockleigh has been called one of the most beautifully unique wedding halls in Northern NJ. The one-of-a-kind magnificence of our time-honored architecture, crystal chandeliers, and impeccably-manicured gardens create an ambiance of unrivaled luxury and opulence. Impressively designed and decorated — this gorgeous property offers a prestigious setting, breathtaking scenery, and unrivaled privacy for the most notable celebrations. As a bride-to-be yourself, this NJ wedding hall inspires a tone of classical intimacy and romance. Read on to learn about the beautifully unique wedding halls in North Jersey.
Romantic Setting
If you've always dreamed of a romantic setting for your reception, look no further than the most unique New Jersey wedding halls. The Rockleigh offers a stunningly romantic property that combines classical elegance with timeless luxury. Indoors, the property is complimented by majestic grand staircases and versatile ballrooms — giving couples a dream canvas for the wedding they've always dreamed of. Our experienced, professionally-trained weddings team looks forward to celebrating with you. Certainly, experience a beautifully romantic setting at the best wedding halls in Northern NJ.
Bespoke Luxury And Charm
Indoor-outdoor wedding halls in Northern New Jersey are overflowing with bespoke luxury, elegance, and charm. Our venue is located in scenic Bergen County, NJ — just miles away from the New York State border. This one-of-a-kind space features upscale refined furnishings, distinguished ballrooms, and inlaid marble dance floors. In-house event coordination, beautiful ballrooms, and impressive gardens are included with every wedding day booking at the Rockleigh. Surely, experience the bespoke charm and luxury at the best Desi wedding venues in NJ.
Five-Star Culinary Excellence
Indulge in the five-star culinary excellence of the most grand wedding halls in North Jersey. Our in-house culinary team crafts exceptional dishes using only the freshest ingredients. We're passionate about creating flavorful and visually-stunning meals that leave a lasting impression on your guests. Leave it to The Rockleigh to handle pre-reception hors d'ouevres to the after-dinner desserts. This way, your only responsibility is to arrive and say "I Do" to your special someone. Absolutely, experience the critically-acclaimed culinary excellence at the best wedding venue halls NJ.
Opulent Grand Ballrooms
Host your reception in opulent grand ballrooms at the most beautiful wedding halls in North NJ. Chandelier-filled ceilings, glowing fireplaces, and majestic grand staircases are just some of the lavish amenities you'll experience upon entering our Bristol Ballroom or Grand Pavilion. The unmatched versatility and luxury of these elegant spaces is well-suited to even the most notable events. If you've always dreamed of a stunningly grand event, The Rockleigh is a perfect match. Definitely, celebrate in luxurious grand ballrooms at the best North NJ wedding halls.
Magical Timeless Ambiance
For a wedding filled with magic and timeless luxury, choose a beautiful grand wedding hall in North New Jersey. On your wedding day, revel in an endless array of breathtaking garden backdrops provided by the vast greenery spanning across the ground. Before exchanging vows, get pampered in a lush, private bridal suite — ideal for unforgettable pre-ceremony photo-ops. Our expert events team will work closely with you to create a memorable celebration, from your ceremony to reception. Trust in The Rockleigh's expertise and attention-to-detail to make your wedding day one-to-remember. Definitely, you and your partner will love the magical timeless ambiance of the best wedding venue halls New Jersey.
There's so many captivating features of grand wedding halls in North Jersey. The Rockleigh's romantic setting is marked by classic elegance and luxury. Every celebration here radiates in bespoke charm and opulence. For your meal, indulge in our in-house, five-star culinary excellence. Then, host your reception in stunning and opulent grand wedding ballrooms in New Jersey. The magical and timeless ambiance here transports guests to a new world of luxury. Follow the points above to learn about the best luxury wedding halls in NJ.