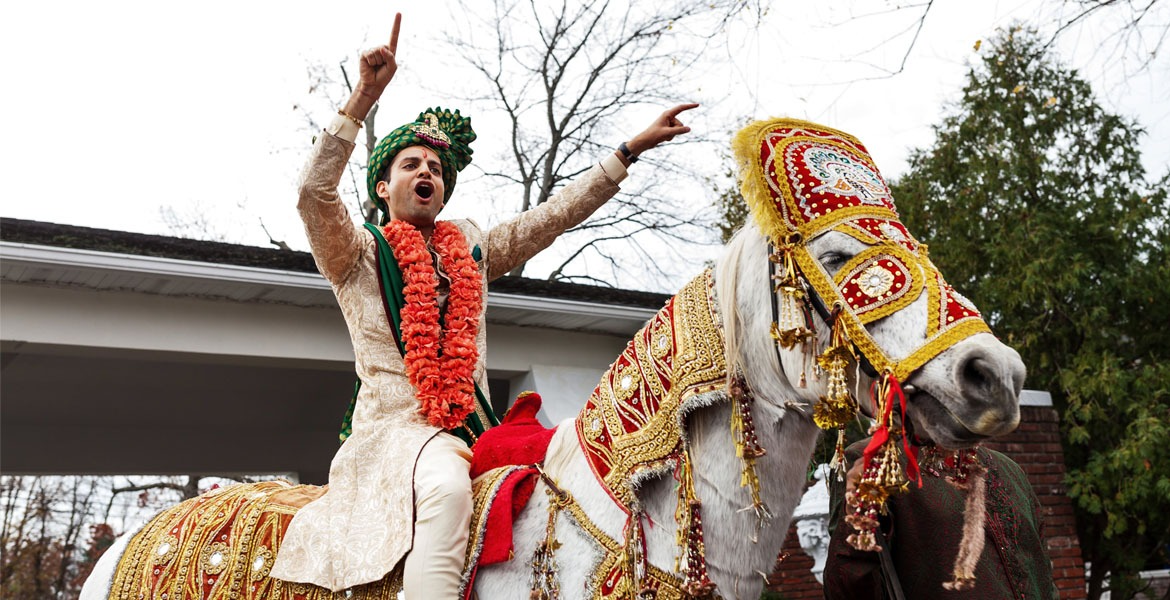 Traditional South Asian Events At Desi Wedding Venues NJ
Host a luxurious and traditional South Asian event at the best Desi wedding venues in New Jersey. Planning the wedding of your dreams – and searching for the most magical and glamorous Indian wedding halls NJ? You've finally discovered the right place. The Rockleigh is fully-prepared and equipped to host your romantic wedding event, along with all the festive, colorful, and celebratory traditions. With elegant grand ballrooms, time-honored architecture, and breathtaking outdoor gardens, your guests will certainly be amazed by everything we have to offer. Read on to learn about the most traditional NJ Desi wedding venues for your South Asian event.
A Magnificent Grand Entrance
Imagine sophisticated luxury, magical romance, and unsurpassed grandeur on your New Jersey wedding day. If you're planning on making a grand entrance, the Rockleigh provides the perfect setting. Arrive in style – with time-honored architecture and rich landscapes as your backdrop. Your photographer will have so many incredible photo-ops every step of the way. What better way to set the tone on your big day? Certainly, make a grand entrance at the best venues for a Desi wedding New Jersey.
Direct Planning Support
Experienced, knowledgeable event planners at the best Desi wedding locations NJ are ready to help South Asian couples plan the most important day of their lives. We respect and honor your traditions, beliefs, customs, and faith while planning this monumental occasion. Our event coordination team works with you to ensure that every guest will love the atmosphere, ambiance, layout, and traditional ceremony on your big day. We're an accessible point of contact for every aspect of your wedding planning journey – even when it comes to last-minute changes and details. We've helped hundreds of South Asian couples plan unforgettable Desi wedding celebrations in New Jersey.
Outdoor Baraat Ceremonies
The best multicultural wedding venues NJ have plenty of romantic locations for your outdoor Baraat ceremony. If you're planning a wedding in the spring, summer, or fall, our impeccably-manicured grounds are ideal. Host your Baraat surrounded by blooming flowers, flowing fountains, charming gazebos, and vibrant gardens. Hire professionals from the Rockleigh's exclusive network of reputable vendors to further elevate your ceremony. Bring your traditional Baraat to life with talented entertainers, floral décor, and other cultural touches. Indeed, host your outdoor wedding ceremony at the most luxurious Desi event venues New Jersey.
Breathtaking Wedding Ballrooms
Your Desi wedding New Jersey will feel like a truly luxurious, opulent, and magical affair in our breathtaking ballrooms. Our spacious wedding ballrooms were expertly-designed with sparkling crystal chandeliers, glowing fireplaces, and upscale furnishings. Plus, an expansive inlaid marble dance floor – perfect for all your Bollywood moves and live entertainment choreography. All these touches together create a stunning ambiance, ideal for a magical night. Be prepared to get swept off your feet. Absolutely, experience breathtaking ballrooms at the best Desi wedding spots NJ.
Celebrate In Style
Host your reception at the best South Asian wedding venues NJ – and guarantee a magical event you'll never forget. Get ready to sing, dance, party, and celebrate all-night in our elegant wedding ballrooms. Choose a wedding package that includes open bar service with premium, top-shelf liquor options. We have everything you need for an unforgettable event with your newlywed-spouse. Definitely, celebrate in style at luxurious Desi wedding ballrooms NJ.
There's several steps to plan a traditional South Asian event at beautiful Indian wedding venues NJ. From the moment your wedding begins, make a grand entrance at The Rockleigh. Our event planning team will be by your side every step of the way while planning this monumental occasion. Get married surrounded by blooming gardens, flowing fountains, and impeccably-manicured grounds for your Baraat ceremony. When it's time for your reception, celebrate in style in our breathtaking wedding ballrooms. Our luxurious spaces feature glimmering crystal chandeliers, glowing fireplaces, and an expansive inlaid marble dance floor. Follow the points above to learn about traditional South Asian events at Desi wedding destinations New Jersey.