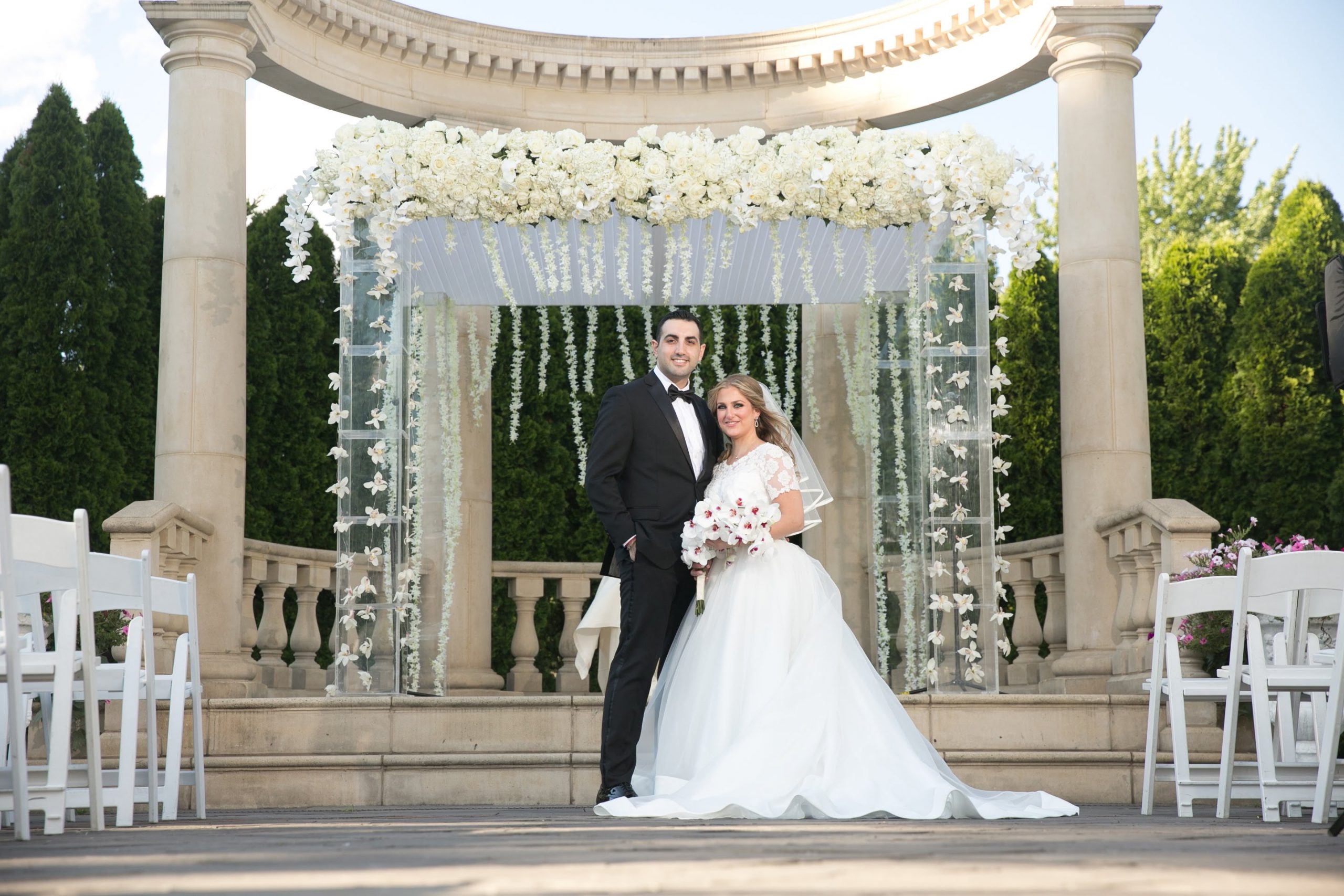 What Makes The Most Stunning Wedding Chapel NJ So Special?
There's so many charming features that make the most stunning, romantic, and beautiful wedding chapel NJ so special. The top wedding venues in NJ with a wedding chapel on-site offer everything needed for a dream ceremony, cocktail hour, and reception – all under one roof. Reserving a separate church for your wedding day can be stressful and overwhelming. With an intimate on-premise chapel, the entire planning and coordination process becomes far easier. Start your life-long journey together beside picturesque backdrops, enchanting gardens, exquisite landscapes, and flowing fountains. Read on to learn what makes the most stunning wedding chapel NJ so special.
Outdoor Options
The most beautiful and magnificent wedding chapels in NJ offer luxurious, elegant outdoor options for your ceremony. In the warmer spring and summer months, exquisite outdoor gazebo chapels are the perfect place to exchange your vows. Let beautiful gardens, lush flowers, and charming fountains serve as your backdrop. The idea choice for couples that love open airy spaces, non-traditional originality, jaw-dropping inspiration, and modern flare. Embrace the outdoors, connect with nature, and enjoy authentic old-world charm. Experience breathtaking greenery, expansive courtyard spaces, and grand time-honored architecture. If the weather doesn't hold up, you can easily re-locate your ceremony to exquisite indoor chapels. Indeed, get married in romantic outdoor wedding chapels in NJ.
Endless Possibilities
The flexibility and versatility of the most stunning NJ wedding chapels creates endless possibilities. Each chapel can seamlessly adapt to your personal preferences, desires, and vision. Walk down the aisle in a romantic chapel that feels uniquely yours. These spaces know how to match your dream wedding theme, ambiance, and atmosphere. Whether you are planning a candle-lit procession or long/short aisle ceremony, these intimate destinations are perfect. Certainly, experience endless possibilities at the most magnificent NJ private wedding estate with an on-site chapel.
Multicultural And Non-Traditional Ceremonies
In addition, the top wedding chapels NJ can easily accommodate your multicultural or non-traditional wedding ceremony. These established destinations have years of experience hosting events for Indian, Muslim, Christian, and Glatt Kosher newlyweds. They take pride in coordinating experiences that honor your family traditions, religious beliefs, and cultural roots. Share your honored rituals and throw the romantic wedding ceremony you've been dreaming of forever. Surely, the most stunning wedding chapel NJ have the capacity, expertise, and knowledge to accommodate your multicultural or non-traditional event.
Bridal Dressing Rooms
For the moments leading up to your big ceremony, the top wedding chapels NJ offer luxurious, spacious bridal dressing rooms. These elegant, charming dressing rooms can comfortably accommodate your entire bridal party. You'll have plenty of space to perfect your makeup, alter your hair, or simply relax and chat before your ceremony begins. It's the perfect way to calm your nerves and plan out any last minute details. You can probably also capture some incredible photos in the process. Absolutely, get ready in luxurious, spacious, comfortable, and relaxing bridal dressing rooms at your wedding chapel venue NJ.
Impressive Décor And Features
To compliment these luxurious spaces, the best wedding chapels NJ offer impressive, elegant décor. Tie the knot with grand marble staircases, glimmering crystal chandeliers, and large magnificent windows. This way, you and your attendees can enjoy eye-catching views, stunning natural lighting, and a sensational ambiance – everything you need for the perfect wedding day photos. These amazing wedding chapels will certainly exceed your every expectation. Definitely, find impressive, luxurious décor at the best wedding chapel in NJ.
There's so many luxurious elements and amenities of the most romantic, stunning wedding chapels in New Jersey. For warm spring and summer weddings, these romantic on-site chapels create the dream outdoor event. In addition, their unique flexibility and versatility creates nearly-endless possibilities. Also, the best wedding ballroom in New Jersey can easily accommodate your multicultural or non-traditional ceremony. They also offer private bridal dressing suites – get ready in style. Further, these spaces are uniquely and artistically designed with impressive décor and luxurious features. Follow the points above to learn what makes the most stunning wedding chapel NJ so special.