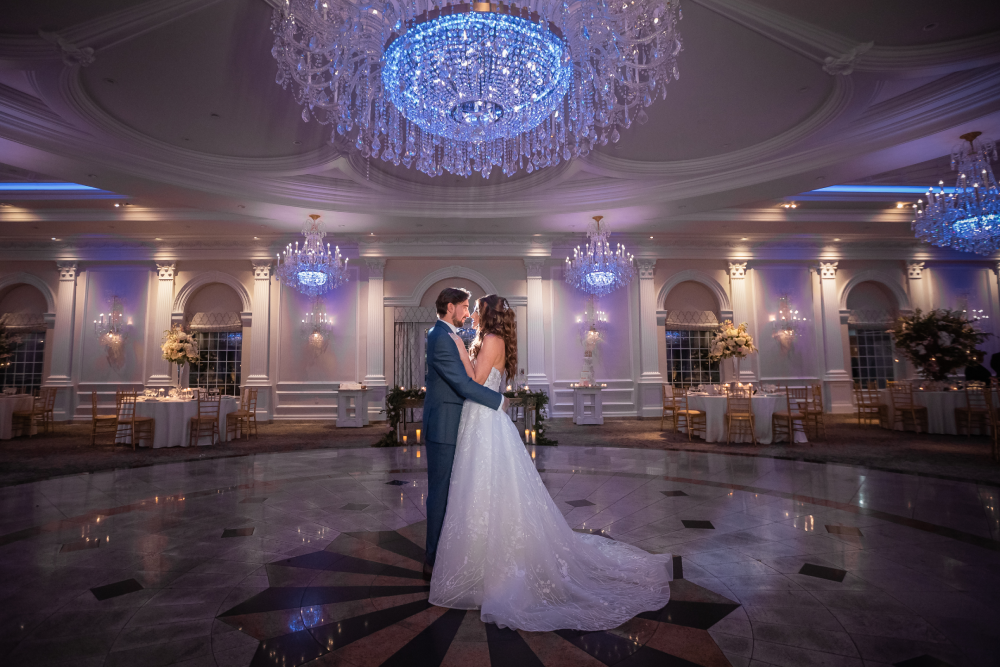 A Luxury Grand Ballroom Wedding Venue NJ That Will Leave You In Awe
Come experience the most luxurious North Jersey grand ballroom wedding venues that will leave you in awe. Celebrate life's most magical moments in an elegant, exclusive, and upscale environment with unparalleled possibilities. The best wedding ballrooms in New Jersey create a stunning, dream-like ambiance that is sure to take your breath away. As a bride-to-be yourself, these impressive venues set the standard for intimacy, romance, and grandeur. Start your life story and make dreams come true here. Read on to experience the most luxurious grand ballroom wedding venue in New Jersey.

Upscale Elegance & Luxurious Charm
The most luxurious grand ballrooms NJ are known for their theme of elegance, romance, and charm. Glimmering, sparkling crystal chandeliers evoke a sense of opulence, magnificence, extravagance, and grandeur. These spacious ballrooms have plenty of capacity to comfortable accommodate your entire guest list. Then, you can dance the night away on an elegant marble-inlaid dance floor. All of these features truly set the tone for an unforgettable, magical, and life-changing event. These ballroom-style venues NJ provide a rich backdrop of sophisticated romance, intimate charm, and upscale elegance.
Unparalleled Tasteful, Stylish Sophistication
From the moment you step into a NJ ballroom, you'll be treated to unparalleled, tasteful, and stylish sophistication. The best ballroom-style venues boast expansive event spaces, rich architectural details, and grand features. These elegant, high-end spaces are guaranteed to wow all of your guests on your wedding day. From the moment they arrive, they'll be greeted by a spacious lobby, fine furnishings, and majestic marble staircase – perfect for a grand entrance. After your cocktail hour, they'll be ushered to the ballroom, complimented with romantic glowing fireplaces, impressive décor, and gourmet cuisine. Indeed, unparalleled tasteful, stylish, and elegant sophistication is a key feature of the best wedding ballrooms near me.

Lush Outdoor Gardens
If you're looking to hold part of your wedding celebration outdoors, the best ballroom venues near NYC and NYS offer well-manicured, rich, flowering gardens – perfect for your ceremony or cocktail hour. Even from inside the ballroom, your guests will be treated to sweeping views of these lush outdoor spaces. These picturesque, natural grounds provide a stunning backdrop for your special day. With charming gazebos, flowing fountains, and blooming flowers, there's an abundance of incredible photo-ops to capture. Surely, use the lush outdoor event space NJ at ballroom venues to further elevate your magical wedding.
Romantic, Charming, Traditional Ceremonies
An NJ ballroom destination near me creates the perfect setting for romantic, charming, and traditional ceremonies. The best venues offer a variety of onsite options to host your magical wedding ceremony. Get married indoors at your choice of two exclusive, romantic chapels. When the weather is nice, host your ceremony outside – complimented by enchanting gazebos, flowering gardens, and flowing fountains. There's so many great places to say "I Do." Certainly, hold your magical wedding ceremony at ballroom venues with onsite chapels NJ.
Knowledgeable, Professional, First-Class Service
When you're hosting a ballroom-style wedding NJ, you need a friendly, knowledgeable, and professional staff. The top venues are passionate about hosting milestone life experiences, creating magical memories, and planning unforgettable events. They combine individualized attention with wedding expertise, coordination support, and logistical assistance. They'll help you plan, design, and execute a wedding that is as special as your soon-to-be spouse. Absolutely, expect knowledgeable, expert, and professional service from your ballroom wedding venue NJ.

Spacious Wedding Ballroom Capacity
Don't forget about the capacity limits of your wedding day ballroom NJ. Compare the venue capacity maximums with your guest list. Thankfully, New Jersey's most romantic wedding ballrooms can comfortably host over 250 guests. Still, these opulent ballrooms are known for a warm, intimate, and cozy ambiance. You should also double-check that there's enough parking for everyone in attendance. Absolutely, discover ballroom venues NJ with spacious, flexible capacity.

Space For Breathtaking Photos
Look for luxurious reception ballrooms NJ that features picturesque, romantic spaces for breathtaking wedding day photos. Gorgeous New Jersey wedding places are simply a photographer's dream. There's so many spots to take beautiful portraits, fun group photos, and romantic newlywed shots here. Take lots of pictures during your first tour so you can take not of all the incredible photo-worthy spaces. You may even want to bring your photographer and videographer along with you. Surely, look for a ballroom venue New Jersey that is filled with scenic spots for your wedding day photoshoots.
Plenty Of Ballroom Amenities
Be sure to check what additional features, lush amenities, and special touches your ballroom wedding venue NJ has to offer. Does the ballroom have a conveniently-located bar – where guests can socialize, mingle, and grab a drink? Or, does it feature impressive décor, like Chivari chairs, glowing fireplaces, and shimmering crystal chandeliers? Also, speak with the on-site venue manager about what audio-visual equipment and amenities are available. After all, this can make initial set up for your DJs and entertainers. Make sure that your wedding ballroom has everything you'll need for a magical reception NJ.
Luxurious Room Potential
If you'd consider yourself a unique and creative bride, luxurious NJ ballroom venues are perfect for your wedding event. On your first tour, imagine how the ballroom will look filled with all your décor, customized place settings, and stylish touches – along with your closest family and friends. Envision the space fully-decked out, as your dream wedding would. Passaic County wedding venues are happy to customize the space to suit your ideal vision. After all, you want your wedding day to feel uniquely yours. Definitely, search for Northern NJ wedding ballrooms that are filled with luxurious potential.
There's so much to experience at the most luxurious grand ballroom wedding venue near me. From the moment you arrive, your guests will be treated to unmatched luxury and sophisticated, elegant charm. With a stunning NJ wedding chapel onsite, these destinations create the ideal setting for your ceremony. You can also choose to host your ceremony, cocktail hour, or entire reception in lush outdoor spaces. To help plan and execute your wedding day event, you can work alongside knowledgeable staff throughout the planning process.
Exclusive wedding ballrooms are known to provide maximum privacy for you and all your guests. Plus, they can comfortably accommodate over 200 guests — so there'll be plenty of room for everyone in attendance. Even more, NJ ballroom venues are filled with romantic spots for unforgettable wedding day photos. Read the points above to experience the most luxurious grand ballroom wedding venue near me.