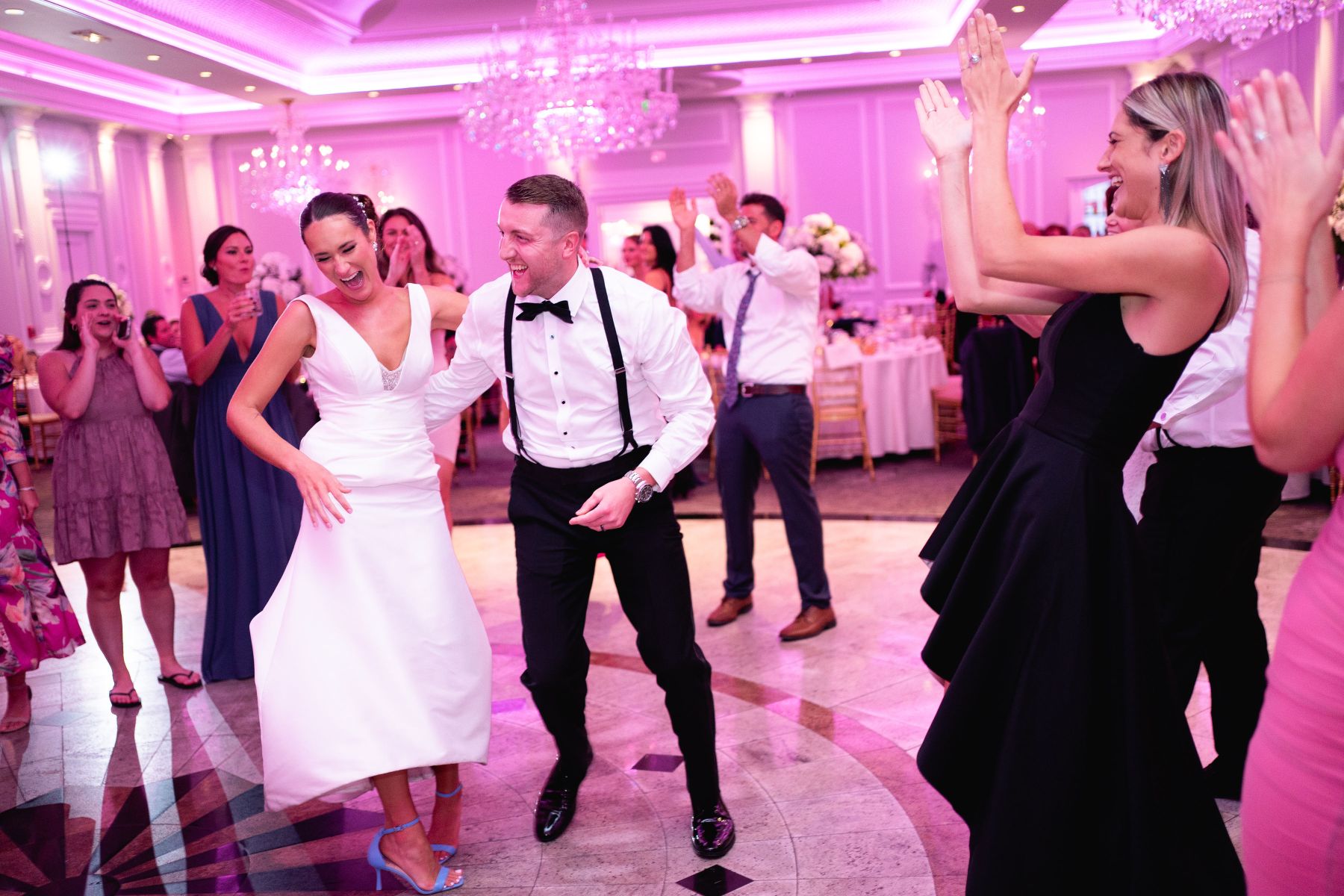 Luxurious Standards Of The Best Private Wedding Venue Montvale NJ
Expect no-less than luxurious, elegant, and opulent standards from the best private wedding venue near Montvale NJ. Your wedding theme, vibe, and feel all depend on the location you choose. So, you want to choose a Bergen County event venue that is committed to luxury, extravagance, grandeur, and attention-to-detail. Here, you can make your wedding day a lavish, magical, and unforgettable celebration. Looking to WOW every guest on your special day? Read on to learn about the luxurious standards from high-end wedding venues Montvale New Jersey.
Stunning Settings For Romantic Ceremonies
The most extravagant wedding locations Montvale NJ provide stunning, romantic, and breathtaking settings for your ceremony. The Rockleigh's expertly-manicured, lush grounds are the perfect escape for outdoor nuptials. Guests will certainly be wow'd by your blooming floral gardens, flowing fountains, and natural greenery. Plus, this magical setting creates some picture-perfect photo-ops too. Always dreamed of getting married indoors? We have two exquisitely designed indoor chapels that are sure to suit your wedding dreams. Certainly, get married in a stunning, romantic, and luxurious setting at the best wedding venues Northern NJ.
Luxurious, Extravagant Receptions
Make your Montvale wedding reception luxurious, extravagant, and unforgettable at the best private venues. Your reception will feel truly magical and special here. Our opulent ballrooms bring every special detail of your wedding event to life. Adorn your special day with sparkling crystal chandeliers, fine furnishings, impeccable service, and extravagant décor. Luxurious indoor ballrooms offer customizable versatility and endless possibilities for the most grand receptions. Surely, make your wedding reception Montvale NJ luxurious and extravagant at the best local locations.
Award-Winning Cuisine
The most gorgeous wedding places in New Jersey are held to a high standard of culinary excellence. Our in-house, chef-led culinary team can prepare an upscale selection of fresh hors d'oeuvres, salads, and entrees – that simply can't compare with any fine dining restaurant. Knowledgeable planners will help you design a unique, creative reception menu to serve on your wedding day. We're passionate about designing innovative menus that align with your personal tastes, preferences, and identity. Indeed, the best wedding spots Montvale NJ are known for world-class, award-winning cuisine.
Bringing Wedding Day Dreams To Life
No matter your wedding theme or vision, the best private venues will help bring your dreams to life. The Rockleigh's spacious ballrooms can comfortably accommodate 200+ of your closest friends, family, and loved ones – all while giving your event the individualized attention it deserves. Months before your wedding day, expert on-site planners will meet with you to discuss your goals, needs, dreams, and vision. We're known throughout the region for making wedding dreams come true. Our experienced team will work directly with you to make your wedding day a memorable one. Absolutely, wedding venues in Montvale NJ are known for turning dreams into reality.
Commitment To Excellence
You've dreamed of your wedding day in Montvale for your entire life. New Jersey's best venues are committed to making your special day magical, unforgettable, and unsurpassed in luxury. Venues like The Rockleigh are known for our unsurpassed attention-to-detail and unparalleled level of excellence. Couples planning their event here receive exceptional service, individualized attention, and helpful guidance from start-to-finish. We're dedicated to making your wedding day truly magical for all your closest loved ones. Definitely, look for wedding venues Montvale NJ that are committed to luxury and excellence.
Private wedding venues Montvale NJ are held to a higher standard of luxury, grandeur, and excellence. Get married at these beautiful New Jersey wedding venues with chapel on-site – and host your ceremony on impeccably-manicured outdoor grounds. In addition, these locations are known for chef-curated, flavorful cuisine. After your meal, party and experience the Rockleigh's notoriously extravagant and luxurious reception. During every aspect of your big day, these high-end locations are committed to excellence and luxury. They're passionate about making wedding day dreams come true. Follow the points above to learn about the luxurious standards from private wedding venues around Montvale.