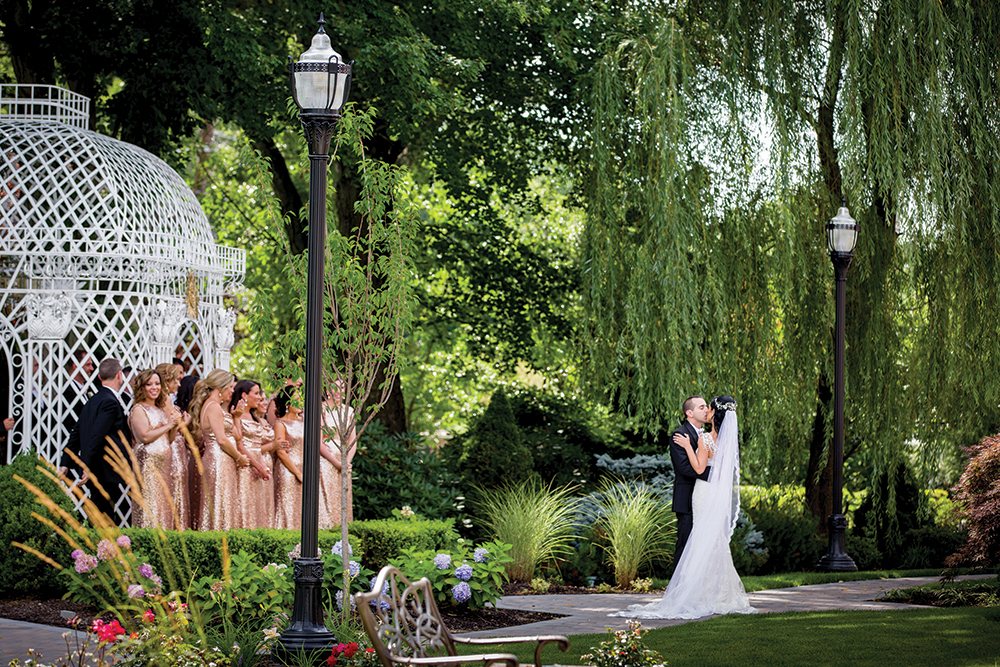 The Best Garden Wedding Venues Near Park Ridge NJ
Host a luxurious outdoor event at the best garden wedding venues near Park Ridge New Jersey. Situated just a short drive away from the New York State border, The Rockleigh offers an elegant setting for classical, fairytale-esque weddings. Magically blending timeless opulence into lush outdoor landscapes, these spectacular locations offer a gorgeous wedding destination – surrounded by stunning gardens and breathtaking scenery. Flowing fountains, charming gazebos, and blooming flowers serve as the perfect backdrop for your first moments as husband and wife. Keep reading to learn more about the best garden wedding venues near Park Ridge NJ.
Stunning Outdoor Backdrops
Discover stunning outdoor backdrops at the best garden wedding locations Northern NJ. Imagine the most important day of your life amidst stunning backdrops at Bergen County's most magnificent event venue. The Rockleigh features beautiful garden ceremony locations — complete with lush floral scenery and seasonally-colored foliage. Magical wedding photo-ops await on these picturesque outdoor grounds. There are flowing fountains next to charming gazebos and a romantic outdoor chapel. Certainly, expect unforgettable outdoor backdrops at the most unique garden wedding venues NJ.
Awe-Evoking Property
Step inside the awe-evoking property at the best wedding venues near Park Ridge. The Rockleigh's majesty doesn't end with its beautiful garden landscape. Enter the truly opulent interior with tall ceilings and stunning crystal chandeliers — this lavish space is adorned with luxury at every turn. The Grand Pavilion an unparalleled reception ballroom with an inlaid marble dance floor and premium open bar service, embodying an ambiance of timeless elegance. Venture up the majestic marble staircase to the Bristol room, giving the space a extravagant feel. Definitely, experience the awe-evoking property at the best garden wedding reception venues in NJ.
Exceptional Menus
Even with your wedding outdoors, indulge in exceptional, chef-inspired menus at New Jersey's best event venues. Master chefs at The Rockleigh have been crafting exceptional culinary experiences for over 25 years. We're proud to offer creative reception menus and gourmet additions for you and your guests. We can also reccomend unique hors d'oeuvres and food stations that take your cocktail hour to the next level. To try the Rockleigh's signature cuisine for yourself, we can arrange a tasting with you and your special someone. Absolutely, taste exceptional menus at the best wedding spots Bergen County NJ.
Countless Possibilities
Create an event filled with countless possibilities at the best garden Summer wedding venues NJ. Our luxurious, romantic event venue offers everything needed for a truly unique wedding celebration. With lush outdoor landscapes and stunning garden chapels, The Rockleigh has endless possibilities for beautiful wedding events. Whether you're searching for an open-air outdoor wedding or a lavish ballroom space, the Rockleigh has the venue and service for a one-of-a-kind event. Truly, the possibilities are endless when you create memories at the best garden wedding venues North Jersey.
Traditional Elegant Flair
The Rockleigh is a luxurious and timeless wedding venue featuring traditional elegant flair — conveniently located near Park Ridge, New Jersey. With stunning views of lush floral landscapes, intimate gardens, and time-honored architecture — our outdoor grounds surround you by natural beauty and unsurpassed luxury on your big day. This coveted indoor-outdoor venue can comfortably accommodate 250+ guests while offering impeccable guest service and genuine hospitality. Our location is designed to provide the picture-perfect ambiance needed to make your big day truly magical. Indeed, feel the traditional elegant flair at Park Ridge NJ wedding venues.
There are several unrivaled amenities at the best outdoor garden wedding venues near Park Ridge. Every second of your celebration, guests are in awe by stunningly gorgeous backdrops and lush landscapes. After your ceremony, head indoors to our awe-evoking mansion property. When it comes time for dinner, you and your loved ones can indulge in the Rockleigh's signature cuisine and diverse menus. Just feel the traditional elegant flair in this unforgettable NJ place to get married. There's countless possibilities to make your special day magical here. Follow the points above to learn about hosting your reception at the best garden wedding locations in NJ.