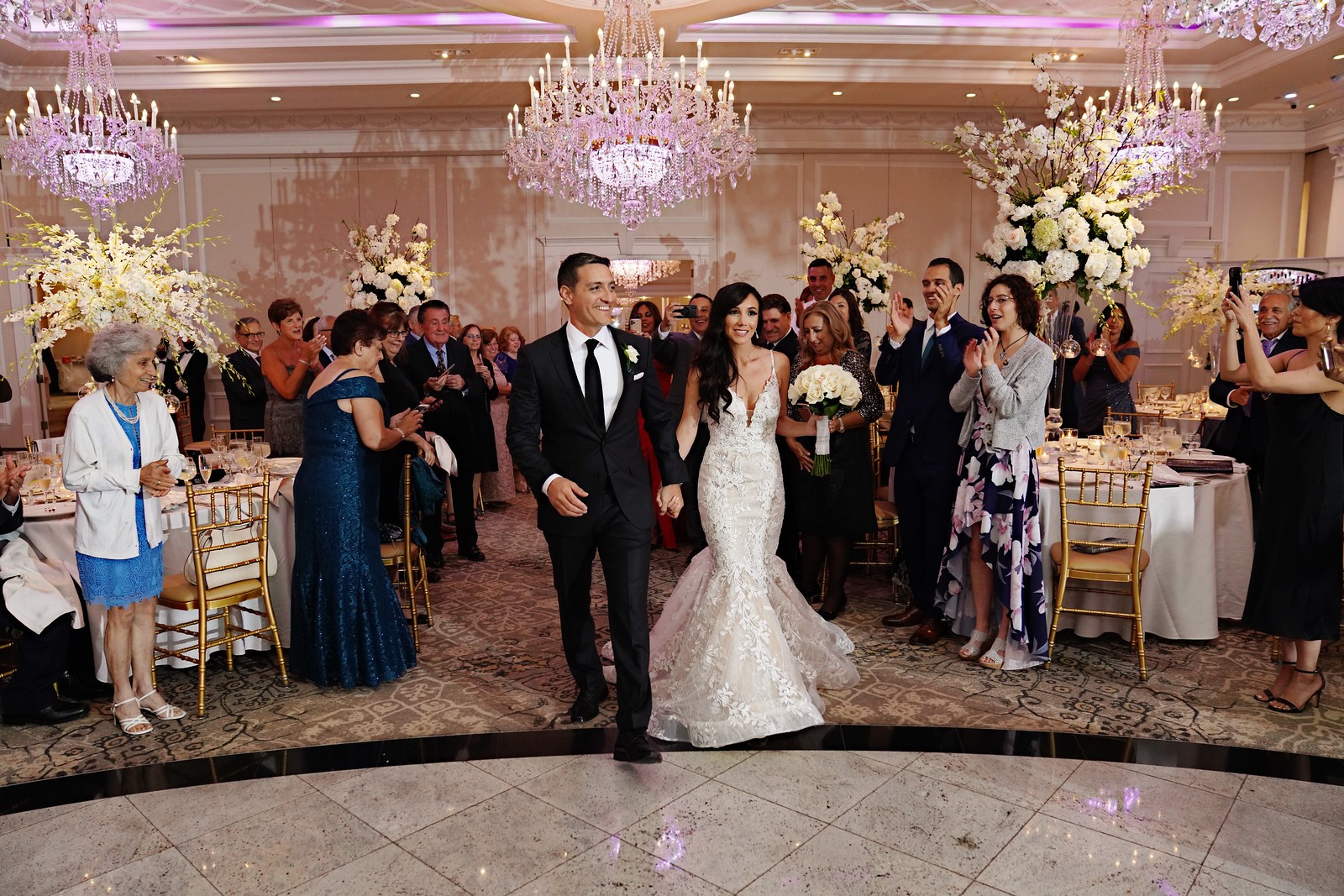 Best Wedding Venues Morris County NJ For Unique Events
There's so many luxury and unique event amenities at the best wedding venues near Morris County. A lot goes into deciding on the most beautiful NJ wedding locations. Brides need to think about everything from location and space, to stunning decor and impressive architecture. After all, your wedding reception is one of the biggest days of your life. It needs to be a day filled with incomparable luxury and unsurpassed charm. Read on to learn about the best wedding venues Morris County NJ.
Opulent Grand Ballrooms
Host your reception in opulent grand ballrooms at the best wedding venue near Morris NJ. The Rockleigh's Bristol Ballroom and Grand Pavilion are both stunning — with sparkling crystal chandeliers, high ceilings, and glowing fireplaces. These spaces are a true New Jersey gem that exude grandeur throughout. The entire space is lined with rows of expansive windows that overlook the beautiful gardens outside. In addition to the ballrooms, couples will love the pre-reception lounges and private bridal suites. These beautiful spaces boast an elegant, opulent, and charming design. Indeed, the best wedding venues near Morris County are known for luxurious grand ballrooms.
Lush, Elegant Gardens
Discover beautiful, lush, and elegant gardens at the most charming wedding venues near Rockland County. The Rockleigh is characterized by stunning floral landscapes and gorgeous greenery. With flowing fountains and picturesque gazebos, this outdoor space offers breathtaking scenery for wedding day photos. Once guests head indoors, expansive ballroom windows provide beautiful views of the impeccably-manicured gardens. Both indoors and outdoors, the Rockleigh has such as lush and luxurious ambiance. Surely, get married in romantic, elegant gardens at the most unique wedding venues near Morristown NJ.
Unforgettable Culinary Excellence
Indulge in unforgettable culinary excellence at the best wedding venues around Morris County. In addition to dedicated wedding planners, The Rockleigh boasts an in-house, executive-chef-led culinary team. Our world-class chefs design unique, customized menu that fit every couple's unique tastes, palette, and preferences. From waitstaff-butler-passed hors d'oeuvres to spectacular seafood and sushi bars, there is a luscious selection of culinary options here. Definitely, experience unforgettable culinary excellence at the most popular wedding venues Morris County.
Multiple Luxurious Spaces
The top Morris County wedding venues offer couples multiple versatile, customizable, and unique spaces to host their special day. Start your unforgettable special day by exchanging vows in The Rockleigh's impeccably-manicured outdoor gardens. There's plenty of space for up to 250 loved ones. Then, toast with a glass of champagne, dance, and celebrate in our magical grand ballrooms. These magnificent spaces are well-suited to every different type of event. Before your reception, our full-service events team will meet with you to discuss your wedding vision — and how to bring it all to life. Absolutely, host your event in multiple luxurious spaces at the best wedding venues Northern NJ.
Two Decades Of Hosting
Morris County's best wedding venues are proud to offer every couple over two decades of hosting expertise. The Rockleigh is proud to offer brides and grooms impeccable guest service and genuine hospitality. Every event here is coordinated with our full-service events and culinary team. To make your big day all the more magical, we can recommend preferred, trusted vendors — who are familiar with our Bergen County wedding venue. Certainly, the best wedding locations in New Jersey offer luxury couples two decades of events hosting expertise.
There are several luxurious features of the best wedding venues near Morris County. These stunning locations boast opulent grand ballrooms — overflowing with luxury, charm, and opulence. Before your reception, say your "I Dos" in The Rockleigh's lush and elegant gardens. With dedicated chefs in-house, our venue is renowned for unforgettable culinary excellence. Host your event between a choice of versatile and breathtaking wedding spaces. To make every event magical, our one-of-a-kind wedding venue offers brides, grooms, and guests alike over two decades of weddings hosting expertise. Follow the points above to learn about the best wedding venues near Morris County.