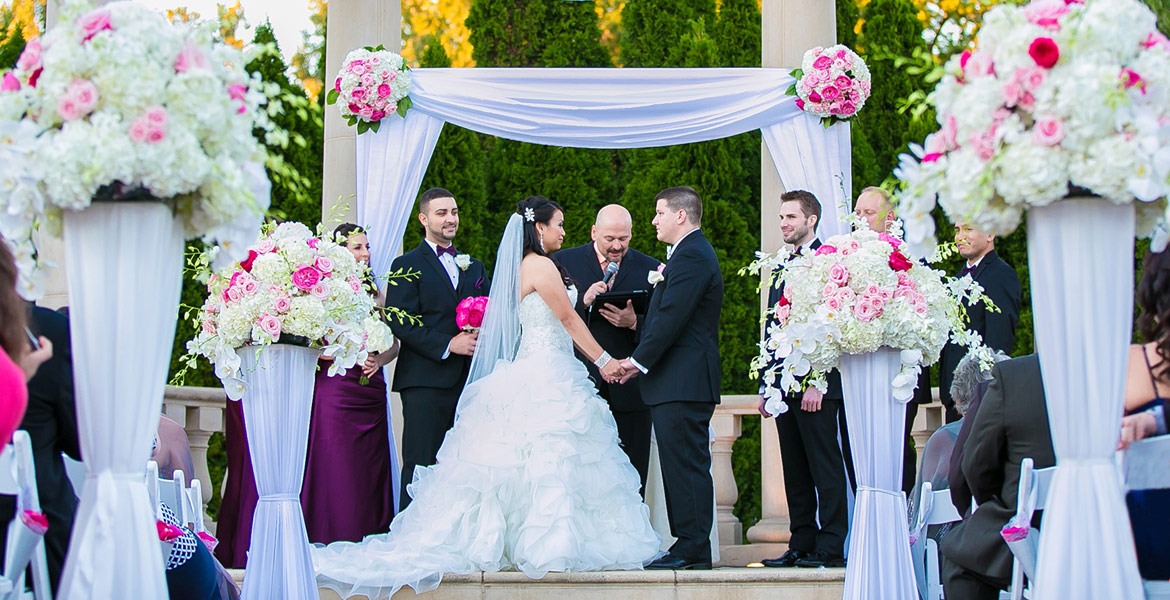 Unique Year Round Wedding Venues Near Paramus NJ
Introducing the most unique year round wedding venues near Paramus New Jersey. With more than 25 years of event expertise, NJ's most spectacular wedding locations take elegance and grandeur to the next level of luxury. At The Rockleigh, our award-winning cuisine, lavish ballrooms, and impeccable white-glove service are a perfect fit for even the most extravagant celebrations. As a bride-to-be yourself, you should know what sets the best locations apart from the rest. Read on to learn about the amenities at year round wedding reception venues near Paramus.
Swap Vows In Magical Ceremony Settings
The best wedding venues NJ are sure to provide a breathtaking, memorable, and magical backdrop for your ceremony. Imagine swapping vows beside peacefully-flowing fountains – surrounded by tall trees, colorful foliage, and fresh flowers. If you've always dreamed of an indoor ceremony, or Georgian and Pavilion Chapels are adorned in unparalleled luxury. From here, you and your newlywed space move to our grand ballrooms – where your extravagant cocktail hour and reception begins. Surely, get married in a breathtaking, magical setting at the best wedding venues Paramus NJ.
Enjoy A Sense Of Timelessness
Get a sense of classical elegance and timeless luxury from the moment you arrive at the best North Jersey wedding venues. At The Rockleigh, our magnificent ballrooms emanate the romance, charm, and intimacy of a beautiful country manor. With sparkling crystal chandeliers and a glowing fireplace, every inch of the space is beaming with luxury. On the exterior grounds, lush gardens, blooming flowers, and flowing fountains further add to the dream-like ambiance. With our breathtaking indoor-outdoor spaces, The Rockleigh is well-suited for luxury in every season. Certainly, experience a sense of timelessness at the most magical wedding venues near Paramus.
Create Unforgettable Moments
Create unforgettable moments and experiences at the best wedding reception venues in New Jersey. The Rockleigh perfectly sets the stage for your prestigious, once-in-a-lifetime celebration. Our heavenly ambiance, unsurpassed luxury, and commitment-to-excellence keep every second of your big day filled with elegance. You and your distinguished guests will indulge in assorted hors d'oeuvres, exquisite entrees, and premium top-shelf cocktails. Then, dance the night away under twinkling chandeliers. Our experienced event planners will help you design an extravagant celebration that simply cannot compare. We're experts in designing wedding events that reflect your unique culture, love story, and vision.
Take Everyone's Breath Away
Watch your guests relish in delighted amazement during your Paramus NJ wedding. The Rockleigh delivers a magical, breathtaking setting that is sure to take your guests' breath away. Our spectacular venue lends itself brilliantly to picturesque photo-ops. Breathtaking backdrops, unsurpassed luxury, and a magical setting truly set the stage for timeless opulence. Enjoy all the beauty and glamour around you. Absolutely, take everybody's breath away at the most beautiful wedding venues Northern NJ.
Begin Your Happily Ever After
Start planning your one-of-a-kind celebration at wedding venues near Old Tappan today. An experienced on-site event planner will walk you through every step of planning your wedding at The Rockleigh. On your big day, our team will devote special personal attention to you and your guests, so we can ensure that everybody has an unforgettable experience. Definitely, start planning your happily ever after at the best wedding venues North NJ today.
There's so much to look for in the most unique year round wedding spots near Paramus NJ. On your tour, take a look at the indoor and outdoor wedding chapels. You want to exchange vows with your special someone in a breathtaking, magical setting. From the moment you arrive, you should experience a sense of timelessness and elegance here. It's the perfect ambiance for creating memorable moments. Ultimately, you want a setting that will take everyone's breath away. Are you ready to start planning your happily ever after today? Follow the points above to learn about the most unique year round wedding venues Paramus NJ.